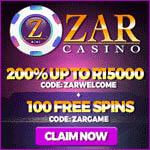 The ZAR Casino is one of the best online casinos for South Africa Players.   Here you find more the 800 Casino Games and a high welcome bonus when you register over Africacasino.co.za. The customer support is very friendly and helpful. The ZAR Casino also offers a wide range of deposit and withdrawal options. This wonderful and popular Online casino was launched in 2022 and so is one of the latest South African-friendly online casinos. That's why everything in it – from its currency (ZAR) to its bonuses to its games to its banking methods to its 24/7, 365 customer support – is geared up for South Africans.
ZAR Casino is one of few sites that has gone 'full South African,' which is great if you live by the motto 'local is lekker.' While you'll find many virtual casinos that accept South Africans willingly, ZAR Casino is the real deal.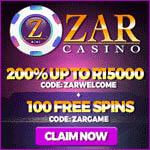 I-"ZAR Casino" ingelinye lamakhasino aku-inthanethi ahamba phambili Abadlali baseNingizimu Afrika. Lapha uthola eminye imidlalo ye-Casino engu-800 kanye "nebhonasi yokukwamukela" ephezulu uma ubhalisa ku-"Africacasino.co.za". Ukwesekwa kwamakhasimende kunobungane kakhulu futhi kuyasiza. I-"ZAR Casino" iphinde inikeze ngezinhlobo eziningi zediphozithi kanye nezinketho zokuhoxa. Le khasino ye-inthanethi emangalisayo futhi edumile yethulwa ngo-2022 futhi ingenye yamakhasino aku-inthanethi akamuva anobungani baseNingizimu Afrika. Yingakho yonke into engaphakathi kuyo – kusukela emalini yayo (i-ZAR) kuya kumabhonasi ayo emidlalweni yayo kuya ezindleleni zayo zokubhanga kuya ku-24/7, 365 ukwesekwa kwamakhasimende – kuqondiswe kubantu baseNingizimu Afrika.
I-"ZAR Casino" ingenye yezingosi ezimbalwa eziye 'zaseNingizimu Afrika ngokugcwele,' okuyinto enhle uma uphila ngesiqubulo esithi 'local is lekker.' Nakuba uzothola amakhasino amaningi abonakalayo amukela abantu baseNingizimu Afrika ngokuzithandela, i-"ZAR Casino" iyona nto yangempela.
ZAR CASINO
As proof, its About Us page is sprinkled with local landmarks like Table Mountain, Hillbrow, Elephants and even Chapman's Peak Drive (which you should only ever negotiate in a Mercedes Benz for obvious safety reasons).
But being a bone fide 'Brigadier in the Biltong Brigade' aside, ZAR Casino has a fantastic choice of browser-based i.e. instant play multi-platform real money games you can play virtually 24/7 on any computer or mobile device.
So this means whether you prefer playing on your desktop PC / Mac, notebook, laptop, smart phone or tablet, ZAR Casino can and will accommodate you no problem (of met geen probleem, as hulle se mos in Afrikaans).

Zar Casino Games

Its offerings comprise slots, video poker, table and other games produced by a variety of online casino software producers. In fact, ZAR online casino's games hail from some of the best vendors in the business.
These firms develop games crammed with bright, bold and attractive HD + 3D graphics. They also have lots of worthwhile features, competitive RTPs (return to player) and high payouts, which is what it's all about.
To play games for real money you must only do so on a safe, trustworthy and 100% South African-friendly online casino, which ZAR Casino is and then some. Its game selection will keep you occupied night and day.
And because you can choose the coin / bet / chip size on most games, you can rest assured you'll always be able to play games that suit your budget – small, medium, large or XL. At ZAR Casino 'one size fits all.'
High ZAR Casino Bonuses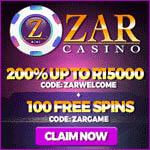 It's no secret that the best online casinos have the best i.e. most generous, lenient and potentially high-paying bonuses and ZAR Casino is no exception. It has a fantastic offer – a Match Bonus + 100 Free Spins.
Although the Matching Bonus requires a deposit to unlock, you can use it to add up to R15,000 to your casino balance. Plus you can claim and use 100 Free Spins to play Africa-inspired Big Game slots – what a jol!
You can even cashout a few bucks if you're especially lucky and you meet the wagering requirements that are listed in bonus terms and conditions (T&Cs). Where else can you win with a free spins bonus like this?
Best of all, any and all bonuses you claim and all deposits you make going forward at ZAR Casino will be in good old Rand. This means you don't have to worry about figuring out exchange rates for other currencies.
Safe Way to Pay on Your Way to Play

The great thing about ZAR Casino site is how secure, quick and easy it is to make deposits. The site accepts all major credit and debit cards (including VISA and MasterCard) for deposits, and pays withdrawals via wire transfer. Oh so simple.
If you're a South African you probably own at least one credit card or debit card as well as a bank account with one of the Big 5. Just enter an amount to deposit and your card details and you're good to go. You'll be playing in minutes.
If ever you need assistance with your registration, bonuses, deposits, withdrawals or any other aspect of ZARCasino, just reach out to a fast and friendly customer support agent and they'll give you all the assistance you require.
ZAR Casino
Play in the best South Africa online Casino. The wonderful ZARCasino is a very popular safe and secure South Africa-friendly virtual casino that accepts all deposits, play and withdrawals in ZAR. This is no doubt a 5-star Rand gaming site that you should not ignore.
Sign up now and get your high Welcome Bonus for free play!